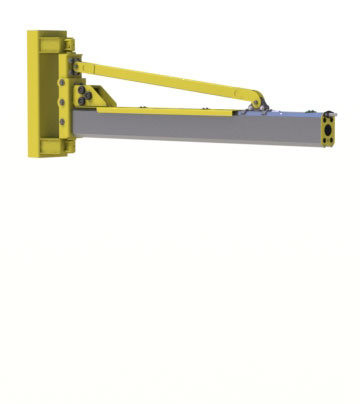 WALL MOUNT 180º
Standard Jib Crane Boom
The180° Wall Mount Standard Boom Jib Crane is a great option for your compact work areas. As with all of our systems, it provides maximum safety and productivity. We are also pleased to offer you superior and consistently balanced trolley movement, which is derived from our precise plum and level adjustments.
Installation is simple. Our innovative Jib Bracket System is easily secured to your support post or vertical structural beam. This Bracket System gives extra support to your column. The double axis adjustment points can plum the jib, even if your column is out of plumb.
Features & Benefits
180° of smooth, uninterrupted movement
Column Bracket System
Fast installation
Takes up no valuable shop floor space
Maximum trolley travel
Horizontal and vertical level adjustment
Capacity: Up to 3 tons
Free lifetime support
Festooning free system, which eliminates the reliability concern of broken cables due to wear and tear, and gives your shop a crisp, clean appearance
Options
Variable Rotation Stops
Motorized Rotation
Choose from KTrac, STrac and iStrut Trac
Motorized Trolley (STrac Only)
Column Helper Bracket
Energy Systems
Electric Hoist
Air Hoist
Balancers
QUOTE REQUEST
Custom configure your JIB
Great choice! The 180º Wall Mounted Standard Jib Crane is going to add value and increase the productivity of your operation for years to come.
Our precise, multipoint adjustment system makes it quick and easy to set up and maintain your Jib. If you decide that you need your Jib in a different location, our Foundationless Jib Post Pod System makes it easy to move your jib and get you back to work in no time. Work hard. Work Better.
Please fill out the fields so we can get started on your quote.