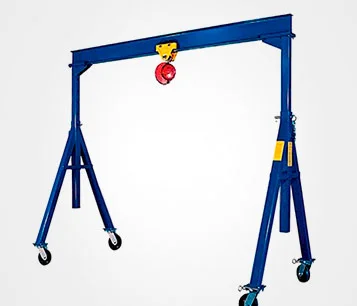 Steel Portable Gantry Cranes
Adjustable Height
Industrial Steel Gantry Cranes are designed for transporting and positioning materials along the beam's length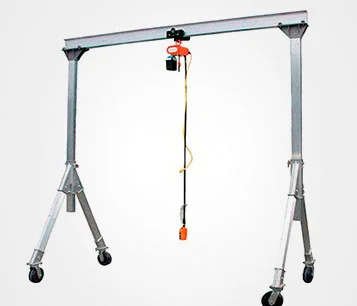 Aluminum Portable Gantry Cranes
Adjustable Height
The Adjustable Height Aluminum Gantry Cranes combine lightweight and rigid construction into one unit
What is a gantry in a crane?
When it comes to heavy lifting, industrial gantry cranes are a go-to solution. Offering a durable option for moving large loads, gantry cranes have become a staple in various industries, including manufacturing, construction, and logistics.
These cranes typically consist of a horizontal beam, known as the gantry, supported by a set of legs and a trolley with a hoist that moves along the beam. While there are different types of gantry cranes, they all share the ability to lift, move, and place heavy loads with ease.
What is the difference between a gantry crane and an overhead crane?
Choosing between a mobile gantry crane or an overhead crane depends entirely on your project's specific needs.
Adjustable height gantry cranes are the perfect choice for outdoor projects due to their mobility and ability to lift heavier loads over a wider span. On the other hand, overhead cranes provide an ideal indoor solution that can be used in factories or warehouses where space is limited.
What is the weight limit for a gantry crane?
These cranes can lift from a range of 500 to 10,000 pounds depending on the model.
Trusted by Worldwide Companies
Subscribe to our Newsletter
Complete the form to subscribe to our monthly newsletter, and let us know what topics you'd like to hear about. 
We want to keep you informed of all the news, promotions and offers that we launch, so that you are the first to have each launch we make.
By clicking subscribe I agree that Kundel Industries Inc. may add me to its email contact list to receive copies of its newsletter. You can unsubscribe at any time by clicking the link in the footer of our emails.