OVERHEAD BRIDGE CRANES
Foundationless Free-Standing Workstation Cranes
QUOTE REQUEST
A knowledgeable Kundel specialist will help you
To request a quote, please complete this form. We will respond within one business day. If you have a more urgent request, please call us at 330.259.9009 for immediate assistance.
FREE-STANDING OVERHEAD CRANES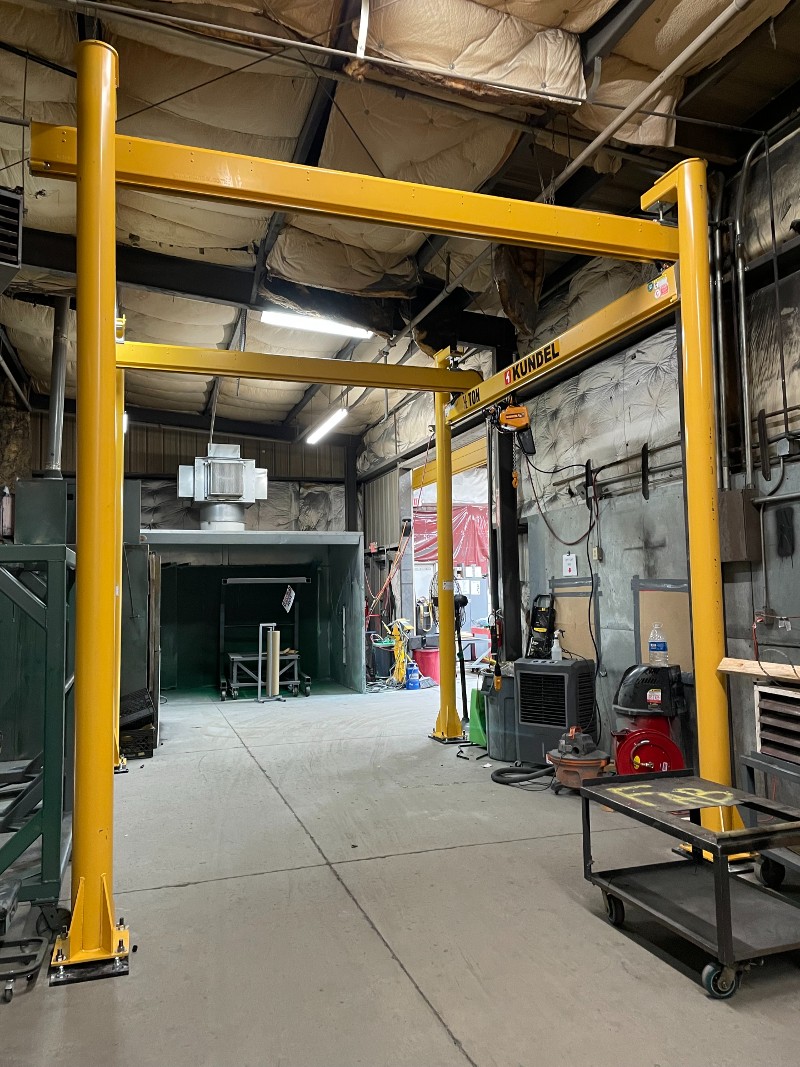 What are the Benefits of Overhead Cranes?
What Are Overhead Cranes?
Overhead cranes consist of a bridge that spans the width of work area and is connected to the crane runways by endtruck assemblies.  These endtruck assemblies have a series of wheels that allow the overhead bridge to travel along the length of the system either on top or below the runways.  The crane runways are support by a series of columns or support posts that are anchored to a concrete floor.
1. Do We Need Overhead Bridge Crane Training?
Overhead crane training and OSHA safety training are instrumental in not only keeping your employees safe, but productive and selecting the right ergonomic solution is key. Monorails and shop cranes keep your work area safe and productive.
2. Which Type of Crane is Best for our Shop?
There are many type of cranes that can be used in the manufacturing process depending on your specific needs and product work flow.  Typically free-standing overhead workstation cranes are ideal for medium to light-duty manufacturing where production and product flow is a concern.  Gantry cranes, Jib cranes and monorail cranes are designed for environments without the demand of process flow utilizing many work cells.  Gantry cranes typically roll along the floor from area to area, but require multiple people and a smooth and open space whereas jib cranes can either be fixed to a wall mount or floor mount support post and anchored into the concrete floor.
3. What Are Some Things We Should Look For in Buying a Crane?
When it comes to overhead cranes you are should always concern yourself how long the supplier has been and business and what kind of references they have of other customers.  Also key are the features tand benfits hat make sense for your manufacturing workspace like internal electric bar and free-standing columns.