Custom Foundationless Free-Standing Workstation Cranes
Trusted by Worldwide Companies
Kundel's Overhead Bridge Crane Capacity Options






FREE-STANDING OVERHEAD BRIDGE CRANES
What are the Benefits of Overhead Cranes?
What Are Overhead Cranes? – Overhead cranes consist of a bridge that spans the width of work area and is connected to the crane runways by endtruck assemblies. These endtruck assemblies have a series of wheels that allow the overhead bridge to travel along the length of the system either on top or below the runways. The crane runways are supported by a series of columns or support posts that are anchored to a concrete floor.
Overhead cranes can also be an integral part of the construction of the building whereas the building is designed to have haunches or supports built into the supporting columns that can support the overhead crane runways and bridge(s).  Typically a building like this costs substantially more than a pre-fabricated building that is only designed to take snow and wind loads applied to the building structure. Whether built-in or placed in an overhead crane will improve your process.

1. Do We Need Overhead Bridge Crane Training?
Overhead crane training and OSHA safety training are instrumental in not only keeping your employees safe, but productive and selecting the right ergonomic solution is key. Training can be supplied by either trained professionals in the area or there are also online classes that you can take that can train your employees on the proper hand signals that are utilized throughout the industry.  These hand signals offer precise communication when verbal communication is not possible. It is very important that the crane operation and the other individuals involved in the lift are on the same page. Monorails and shop cranes keep your work area safe and productive.

2. Which Type of Crane is Best for our Shop?
There are many type of cranes that can be used in the manufacturing process depending on your specific needs and product work flow. Typically free-standing overhead workstation cranes are ideal for medium to light-duty manufacturing where production and product flow is a concern. Gantry cranes, Jib cranes and monorail cranes are designed for environments without the demand of process flow utilizing many work cells. Gantry cranes typically roll along the floor from area to area, but require multiple people and a smooth and open space whereas jib cranes can either be fixed to a wall mount or floor mount support post and anchored into the concrete floor.

3. What  Should Look For in Buying a Crane?
When it comes to overhead cranes you are should always concern yourself how long the supplier has been and business and what kind of references they have of other customers. Also key are the features and benefits hat make sense for your manufacturing workspace like internal electric bar and free-standing columns. Please keep in mind that all cranes are not created equal.  Many may have the same external dimensions required for the project but in fact may have a much different square footage coverage across the factory floor due to design effecting end approach.  You want to make sure over the dollar per square foot of hook coverage.
Headerless Cranes
Open ended design
Crane Headers
No shimming required
Custom Overhead bridge Cranes Designed with Your Shop In Mind
Clear Span Ceiling Supported Cranes
Maximize Floor Space and Reduce Product Flow Restrictions in Production.
Staggered Column Mounted Cranes
Pick and Place Supports Around Your Current Layout to Maximize Effeciency. 
Clear Span Floor Mounted Cranes
Create Large Clear Spans and Increase Your Floor Space Utilization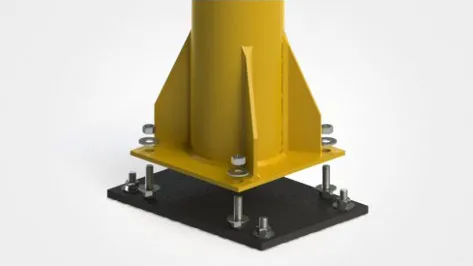 4 Point Adjustable Support Columns
Adjustable floor plate with slotted anchor holes and four independent jack-studs for easy plumbing and and leveling of each support column separately.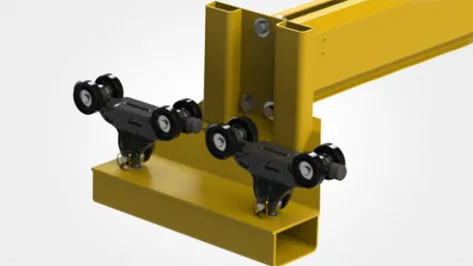 Low Headroom Application Options
Maximize your lifting height by utilizing our raised bridge ends that gain 18″ in additional hook height over traditional workstation bridge cranes.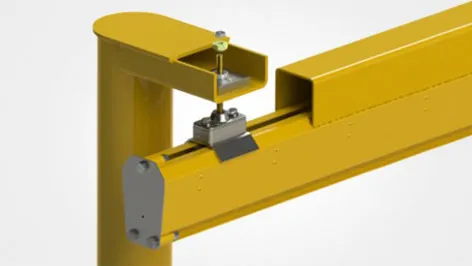 Infinite Adjustable Leveling Bolts
Quickly and easily level up your new KTRAC overhead bridge crane by simply turning and spherical nut to increase or decrease the elevation of the system.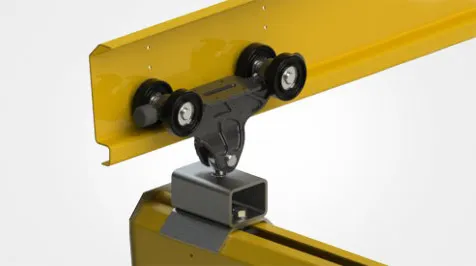 Easy Glide All Cast Steel Endtrucks
While other overhead crane manufacturers use thinly stamped steel plates that are electrical spot welded together we have an industry first all cast steel body.
Subscribe to our Newsletter
Complete the form to subscribe to our monthly newsletter, and let us know what topics you'd like to hear about. 
We want to keep you informed of all the news, promotions and offers that we launch, so that you are the first to have each launch we make.
By clicking subscribe I agree that Kundel Industries Inc. may add me to its email contact list to receive copies of its newsletter. You can unsubscribe at any time by clicking the link in the footer of our emails.