Floor Mounted Jib Cranes & Wall Mounted Jib Cranes For Sale
Save Thousands of Dollars and Go with a Foundationless Jib Crane
Trusted by Worldwide Companies






Get the Job Done with Jib Cranes
Affordable and Durable Jib Cranes For Sale
What is a jib crane and how can it help me?
A jib crane is a lifting device. It typically consists of a support column where either a fixed or free-rotating boom is attached. It utilizes a hoist or a winch to aid in the lifting of heavy objects. These objects can then be lifted and freely rotated about the support column.
Kundel Industries jib cranes are designed to be durable and reliable, ensuring that you get the job done. We offer a variety of 5, 3, and 1-ton jib cranes, making sure that you get the right size crane for your needs.
What type of jib crane is best for our application?
Jib cranes are great for tight or restricted areas where there is little to no access for a forklift or overhead crane system. Ideal locations would typically be close to machinery where a product or part being worked only needs to be hoisted and moved in the immediate area.
Jib cranes come in a variety of configurations from wall mount to floor mount and low headroom or standard headroom. They can also vary in the degree of rotation that they are capable of.  Kundel jib cranes come in 270 and 360 degrees of rotation and depending on your application one may perform better than the other.

1. Foundationless Jib Cranes for Solutions that Work
Why spend tens of thousands of dollars on expensive concrete foundations when you can use a foundationless jib crane.  Our patented POD System allows you to bolt your new jib down directly to your existing concrete floor without the need to shut your operation down and bring in a contractor to dig a foundation pit disrupting your shop.

2. Exceeding Industry Standards
We manufacture our jib cranes to standards above industry requirements utilizing bearings instead of bushings which greatly reduces the push and pull force required to move your load.  This also greatly reduces potential operator fatigue and potential workplace injuries by reducing stresses on the body.

3. Custom Built to Meet Demand
We manufacture custom-built wall mounted jib cranes and floor mounted jib cranes. Each jib crane is built specifically to meet your job requirements and demands including height, length or reach, rotation required and load.  Each unit is custom-built from start to finish and will be exactly what your specifications call for.
We build Safety Equipment for the American working class
As America Innovates
Our Jib Cranes are there
We build Safety Equipment for the American working class
As America Innovates
Our Jib Cranes are there
JIB CRANES SAFELY AND SMOOTHLY MOVING YOUR PRODUCTION
360 Degrees of reach
Effortless rotation that moves your products without restriction
We make clean rooms safe
Low headroom constraints are a part of life, let us help
We make install painless
Improving your shop and reducing work place injuries just makes sense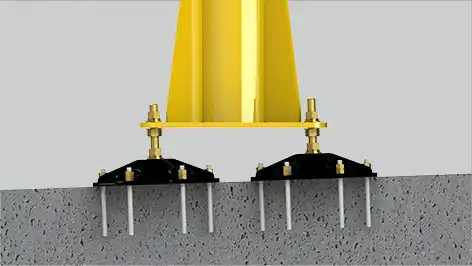 Foundationless Saves Thousands in Concrete
While purchasing a jib crane may be the most economical solution to your lifting needs there are additional expenses that will be required if a foundation is needed.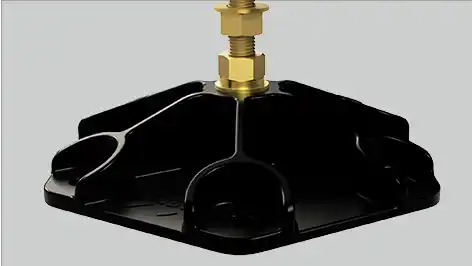 Patented POD Anchor System
Our patented POD system attaches our jib cranes to the concrete floor by dispersing a series of anchors like a spider web thereby removing the need for expensive footers.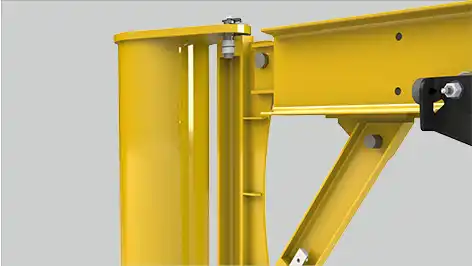 Bearing Cartridges Provide Smooth Operation
Typical jib cranes use bushings at the rotation point which restricts the movement of the jib.  Kundel jib cranes use bearing cartridges to allow the industry's smoothest operation.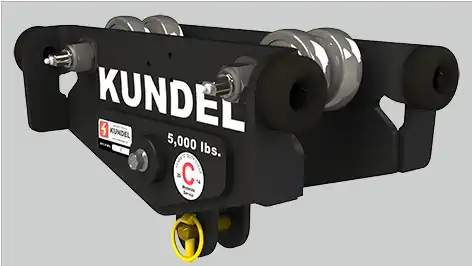 Easy Glide Trolleys that Minimize Force
Our Heavy-Duty jib crane trolleys have a built-in self-centering design that helps the hoist run smoothly down the boom without restriction or resistance.
Prices for Jib Cranes
At Kundel Industries, we provide affordable and customized jib cranes for every need. Our expert team will help you find the perfect jib crane for your needs, no matter what size you need.
We can provide jib cranes in a variety of sizes, including 2 ton and 5 ton jib cranes. Our prices are highly competitive, providing you with the best value for your money. Reach out today for a quote.
Sizing a Jib Crane
When it comes to sizing your jib crane, it's important to consider a number of factors. The weight capacity needed for your jib crane, the Height Under Boom (HUB), the Overall Height, the Working Span, and the Boom Rotation. Be sure to consider these factors when finding the right-sized jib crane for your shop or project.
Size and Thickness of Concrete
When setting up a jib crane, it is important to consider the size and thickness of the concrete that supports it. We recommend setting up a jib crane on concrete that is at least 6 inches thick.
This thickness allows the jib crane to be safely supported and prevents it from tipping over. Additionally, it is important to size the jib crane correctly to ensure it has enough strength to handle the weight of whatever is being lifted.
Expert Advice and Support
At Kundel Industries, our expert team is here to help you with all your jib crane needs. We provide guidance and support to help you find the perfect jib crane for your needs. Whether you need help finding the right size jib crane or you need advice on setting it up, our expert team is here to help
Subscribe to our Newsletter
Complete the form to subscribe to our monthly newsletter, and let us know what topics you'd like to hear about. 
We want to keep you informed of all the news, promotions and offers that we launch, so that you are the first to have each launch we make.
By clicking subscribe I agree that Kundel Industries Inc. may add me to its email contact list to receive copies of its newsletter. You can unsubscribe at any time by clicking the link in the footer of our emails.