Free Standing Bridge Crane Evolution
Kundel's free standing bridge crane business has expanded over the decades to now include SNAPTRAC, KTRAC, TTRAC, and STRAC systems. Our complete line of material handling materials also includes the Patented Foundationless Jib Crane, Steel and Aluminum Gantry Cranes, Workstation Ergonomic Lifting Devices, and many other solutions that can be found at Kundel.com. As family owned and operated Kundel Industries grows, so do our relationships with existing end-users, new customers, and a growing list of dealers. Our beginnings took root first around a dining room table, then moved to our Austintown, OH location and finally expanded to our current manufacturing factory in Vienna, OH. We appreciate our evolving customer relationships with companies who have continued to find superior quality and value in our products through the years.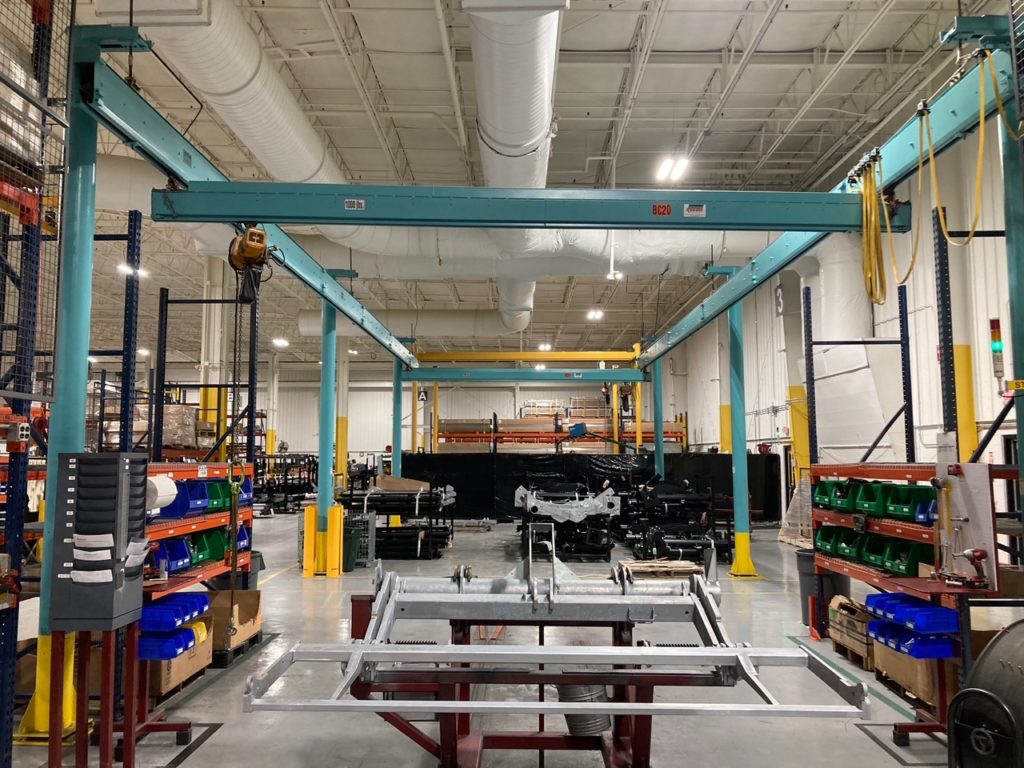 Growing Our Business with Lasting Partnerships
Since the inception of our first crane, Waltco, a division of HIAB, has been purchasing and using our developing lines of material handling solutions. From our very first teal colored bridge crane, the Fast Trac, to our current yellow KTRAC systems, and finally to the custom built STRAC, Waltco has continued to purchase new Kundel free standing bridge crane systems. As an expansion took them from Tallmadge, OH to Streetsboro, OH, Waltco was able to take advantage of their growing manufacturing floor by utilizing larger spans and customizing the articulating, push-pull crane that eventually became the STRAC. Customization of our bridge cranes and a 10:1 safety factor are just a couple of the many features that help Kundel Cranes stand out from the crowd.

What's Next: Free Standing Bridge Cranes and Ergonomic Lifts
As Kundel and Waltco have worked together through the years, material handling solutions now included workstation cranes and ergonomic lifts. After an on-site visit with Waltco to view the shop layout and discuss current applications, we began working with them to design three unique workstations for their new manufacturing lines. Each of these workstations are being custom-built with specialty gripper tools and provide methods to improve safety and efficiency in repetitive manufacturing processes.
Recently, we welcomed Marty Beyner, Operations Manager of Waltco, to our manufacturing plant. We were excited to share our progress here on the shop floor and introduce him to the hard-working people who construct the cranes that have such an impact on the daily operations at Waltco. Thank you to our loyal customers who trust us to move what they are making!