AUTOMATION KITS
Pre-designed, Packaged Automation Kits – Ready To Go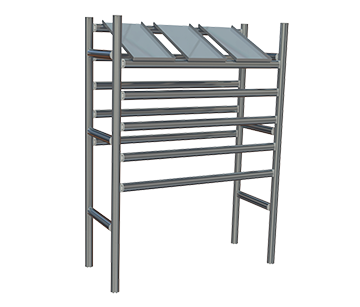 STAGING RACK
Pre-designed, Packaged Automation Kits – Ready To Go
istrut developed Staging Rack. The Racks are Designed and assembled from modular components. the Racks are filled with parts and or components redid for sliding and or rolling into easy into reach of the assembler. The filled Racks are ready to roll into place as needed for, Through Production, no wasted moves, parts always handy.
Features & Benefits
Built from robust modular istrut Barrel Tube aluminum extrusions, and steel clamping systems.
Shelve can be clamped in place at any vertical location
Racks are easily modified to meet process needs
The Staging Racks can be moved location to location with caster kit or with a fork
Options
Shelves
Pull out shelves
Skid Troughs
Roller conveyers
QUOTE REQUEST
A knowledgeable Kundel specialist will help you
Describe your project and requirements, or your istrut question on this form. We will respond within one business day. If you have a more urgent request, please call us at 330.259.9009 for immediate assistance.