AUTOMATION KITS
Pre-designed, Packaged Automation Kits – Ready To Go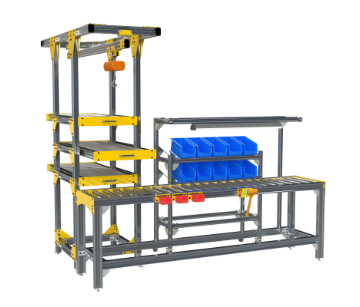 iSTRUT® has a range Automation Models kits. The Kits center around organization, safety, and productivity. The iSTRUT® automation kits will give the tool system that a craftsman can move, and or lift parts into his/her work area and move assemble out safely and productively. All kites comes with certified capacity and are designed to meet or exceed all required standards.
Features & Benefits
Barrel nut slotted system
Barrel Flange
Differing style extrusions with common features
Corresponding line of trolleys
Options
Air reals
Electric bar
Electric reals
Electrification
Lights
Conveyors
Casters
Available Kits
Pick the Kit you are interested on and then select the options you prefer to request a quote.
QUOTE REQUEST
A knowledgeable Kundel specialist will help you
Describe your project and requirements, or your iSTRUT® question on this form. We will respond within one business day. If you have a more urgent request, please call us at 330.259.9009 for immediate assistance.