AUTOMATION KITS
Pre-designed, Packaged Automation Kits – Ready To Go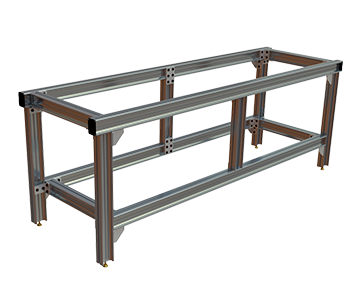 TABLE KITS
Pre-designed, Packaged Automation Kits – Ready To Go
istrut developed Table Backs Kits that enhance ergonomic required processes that empowers the craftsperson to work safe with no wasted moves. The Table Kits are made from robust istrut framing components. The istrut components are designed into re-configurable Table Kits that lineally attachable from table to table with options that meets most requirement. The istrut table are the foundation for Through Production, no wasted moves, parts always handy.
Features & Benefits
Built from robust modular istrut Barrel Tube, and flat top beam aluminum extrusions, and steel clamping systems
Modular connection from table Back kit to table Back kit- 180-degree, 90-degree, and "90-degree "T's"
Through Production, no waste moves, parts always handy
Multiple Continuance table top conveyances systems, in a run of a series of table kits
Multiple Continuance overhead conveyances systems, in a run of a series of table kits
The systems to include reloadable staging racks with multiple conveyance methods
Options
Table Tops
Conveyor tops
Rolling table
Motorized height adjustment
Overhead tool hanging
Overhead lighting
Energy kits
Motorized traveling Platforms
Table Backs
Staging Racks
Overhead Crane
QUOTE REQUEST
A knowledgeable Kundel specialist will help you
Describe your project and requirements, or your istrut question on this form. We will respond within one business day. If you have a more urgent request, please call us at 330.259.9009 for immediate assistance.