Safeguard Series
Aluminum Trench Boxes
Sewer and Waterline Maintenance and Repair Applications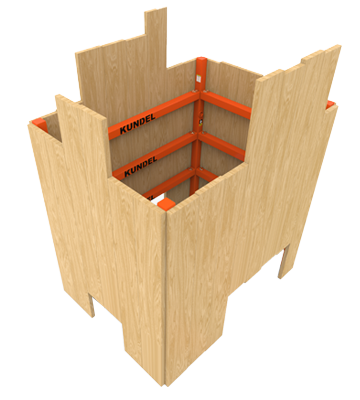 TIMBERSHORE
Safeguard Series
Simple, affordable, and modular trench safety. This system is ideal for trench lining for laying pipe, pit installation for launching trenchless pipe mechanisms, foundation work, and pipe repair. TimberShore is an all steel modular component waler system, utilizing a lightweight steel frame and engineered wood sheeting, which is assembled by hand. This modular system consists of corner end-post, walers and beam spreaders in a variety of lengths that you pin together to create a strong frame that is easily placed into the trench. With just a handful of components, you simply choose the components you need to match your trench for depth, length, and width, than assemble. Multiple lengths and widths are available to fit your needs.
Features & Benefits
Modular Waler Design The all-steel waler skeleton is assembled using simple, modular components. You can pick and choose the right components to quickly meet the job requirements.
Panel Options TimberShore's unique design makes it expandable and "upgradable." Simply remove the wooden planks and attach any of the following options to match different job requirements: Wood Planks, Aluminum V-Panels, Steel Trench Plating or High-Strength Panel.
Stackable End Posts These systems can be stacked vertically for maximum versatility.
Specially Engineered Wood The planks are made from many layers of thin veneer so there are no concentrated areas of knots or cross grains. This makes them capable of handling every day elements, heavy loads and wear from repeated usage. Each plank is proof-loaded by the manufacturer to make sure it meets industrial quality and OSHA standards.
Easy storage Unassembled components can be stacked and stored away, making the most of your limited space. Each frame kit comes with a two-sided frame consisting of 4 to 6 walers, (depending on height,) and 4 end-posts. The width is determined by your choice of spreader beam length. Spreader Beams come in sets of 4 or 6 and include pins and keepers. Spreader beam adjusters and hydraulic struts are available for varied widths in a jiffy.
Specifications
| | |
| --- | --- |
| Primary Uses | Spot Repair |
| Excavator Weight Range | Mini to Rubber Tire |
| Production Depth | 5' TO 10' |
| Waler Lengths | Varies |
Product Literature
QUOTE REQUEST
A knowledgeable Kundel specialist will help you
To request a quote, please complete the form below. We will respond within one business day. If you have a more urgent request, please call us at 330.259.9009 for immediate assistance.