Safeguard Series
Aluminum Trench Boxes
Sewer and Waterline Maintenance and Repair Applications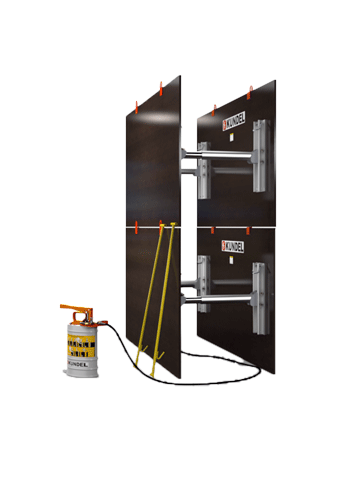 TRENSHORE
Safeguard Series
Your Safety is Our Priority TrenShore is a lightweight, versatile shoring system designed to offer simple, cost effective shoring. We have available stock ready to ship. Certified hydraulic TrenShore kits have the option to come with our patent pending TrenchLock safety system. Included in each kit are a hydraulic pump and hoses. TrenShorehas many great features that traditional shoring systems don't have. These features increase safety, productivity and versatility inside the trench.
Robust Components:
Oversized piston rods with triple seal technology greatly reduce costly leaks and downtime. An inner tube is drawn over the mandrel for a tight fit.
Easy to lift and move around on the job site:
This incredibly lightweight and versatile system can be moved around the job using your bare hands.
Safety Finger Guard:
Oversized safety finger guards help avoid potential pinch points while keeping connections clean.
Big-Block Standoff:
Traditional shoring systems have high tolerance spreader-to-side rail connections. We call this a small block standoff. When dirt falls into this connection, it creates more resistance and becomes harder to use. Our big block standoff design allows dirt to fall through the connection and to keep everything running smoothly.
Features & Benefits
Tested double the capacity before shipment
Modular Panel Design
Rotating Finger Guard
Positive Triple Seal Cylinders
Over-Sleeve Protection
Pin-On Extensions
Zinc Coated Clevis Pins for easy assembly
Certified Repair Program
Hosed Rating 5,000 PSI
Fittings Rated 2,500 PSI
Specifications
| | |
| --- | --- |
| Primary Uses | Light Shoring Work |
| Excavator Weight Range | Hand |
| Production Depth | 5' TO 12' |
| Panel Thickness | – 2-1/2" |
| Panel Heights | 2', 3.5', 5', 7', 9' AND 12' |
| Panel Lengths | 6', 8', 10' AND 12' |
Product Literature
QUOTE REQUEST
A knowledgeable Kundel specialist will help you
To request a quote, please complete the form below. We will respond within one business day. If you have a more urgent request, please call us at 330.259.9009 for immediate assistance.