Rail Units
Crane Rail Mounted Solutions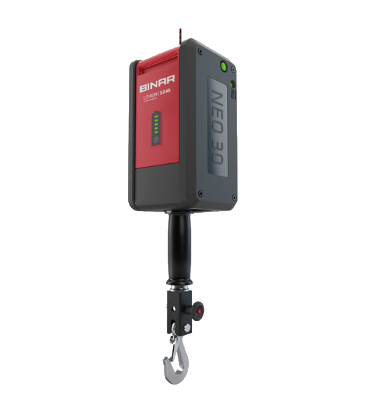 NEO 30
Quick-Lift Rail
Technical Data
Lifting capacity
Max 33 kg
Lift motor
Step less servo-controlled asynchronous motor
Weight
7.5 kg
Maneuvering
Done by using Binar Quick-Lifts patented maneuvering handle. It senses the operator's hand movements, which gives a very exact and smooth speed control.
Only a force equivalent to 20 gram is needed to engage the lift movement. When the operator let go of the handle, the up/down motion is stopped immediately.
Power supply
Battery
Stroke length
55 inches
Suspension
The lift can be mounted in the most types of rail systems. Existing rail systems can often be used.
Gripping device
Grippers are designed to fit customer's need.
Product Literature
QUOTE REQUEST
A knowledgeable Kundel specialist will help you
To request a quote, please complete the form below. We will respond within one business day. If you have a more urgent request, please call us at 330.259.9009 for immediate assistance.